Raiffeisen Bank automates review analysis for superior customer experience
Case Study
Overview
In a time when one of the most important trends in the banking industry is digitalization, Raiffeisen Bank International decided to place online customer experience in the center of their focus. For a faster and more consistent evaluation of mobile app reviews, they partnered with Zurvey.io. Now the analysis process is wholly automated, highly accurate, while insights are delivered through a custom-made, clear dashboard.
Challenges
Automatically process several thousand mobile app reviews.
Flexibility of determining the topics and themes that RBI wants to examine.
High accuracy of the analysis.
Complete E2E automation from collecting customer reviews to visualization.
Read the case study if you want to know…
how to automatically process customer reviews from more than 10 countries;
how CX insights support building a stress-free digital customer journey;
how different teams can benefit from a thorough, interactive dashboard system.
"We are on a journey to become the most recommended financial services group in our markets by 2025. As the importance of mobile interactions rises for our customers, so does the added value of Neticle's products. They allow us to stay on top of what our customers say about our channels every second, in every market and in every language."

Veselin Petkov,
International Customer Experience Leader

Raiffeisen Bank International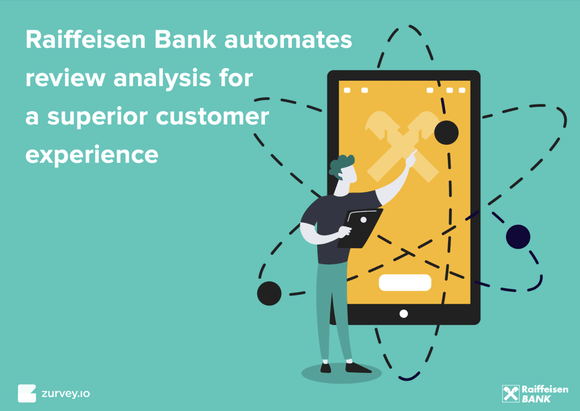 Get a free copy of the case study
Learn more about how your company should benefit from measuring employee satisfaction, too.
Auchan
"I love working with Zurvey.io, it instantly gives me a clear overview of our customers' feedback. Neticle's expert analyses save the Market Research Department significant amounts of time, since they give us sharp, definite recommendations about the areas we need to improve. We integrate these into our strategic decisions in order to further improve our customers' shopping experience."
Erika Szilágyi
Head of Market Research
Raiffeisen
"As a CX leader, I thrive in collecting, analysing and extracting insights from customer feedback. Neticle, with their advanced technology and customer centricity, have been instrumentation in our efforts to harness the power of unsolicited (text) feedback – a source of insights that is continuously increasing in importance as we digitize our customer journeys."
Veselin Petkov
International Customer Experience Leader
Xdroid
"Zurvey.io has an intuitive GUI and nice graph-type visualization of topics and sentiments that help better understand customer surveys and messages on a larger set of data, e.g correlating sentiments, name entities, locations, and verbs. It supports almost all European languages handles negations, double negations as well."
Gábor Karsay
International Sales Director
Book a demo
We know that a significant portion of the success of your research depends on choosing the right survey tool. You don't have to just take our word for the benefits of using Zurvey.io, you can watch it in action instead.Book a demo and one of our Insights Managers will contact you as soon as possible. Take the first step towards ditching manual coding and a whole new world of enhancing CX!