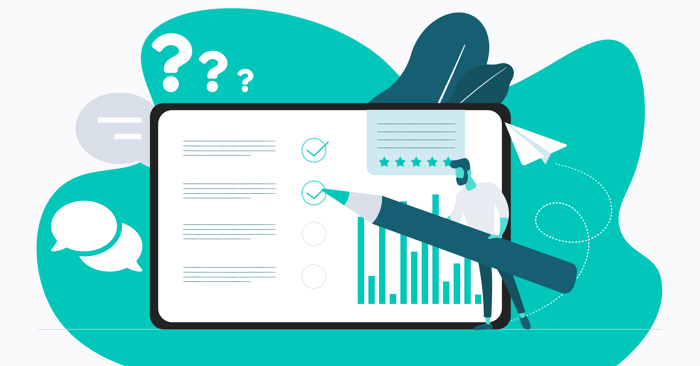 Coverage
Analyse VOC regardless of language
Customer feedback has huge value for every business, regardless of what language it comes in. The good news is that we provide the same precision and functions for all of the languages our algorithm understands.
We handle language specialties such as irregular grammar, suffix and prefix systems, unique alphabets and close similarities with other languages. We can also analyse mixed languages within the same dataset.
METHODOLOGY & PRECISION
Get a humanly precise, entity oriented sentiment analysis
Our technology recognises the positive or negative sentiment in each phrase of the collected mentions, with human level precision. The phrases are scored in our opinion index system, which generates our unique reputation KPI.
METHODOLOGY & PRECISION
Identify topics with automated labelling
We recognise and tag all important topics, along with product and service attributes, making sure no customer pain point remains hidden.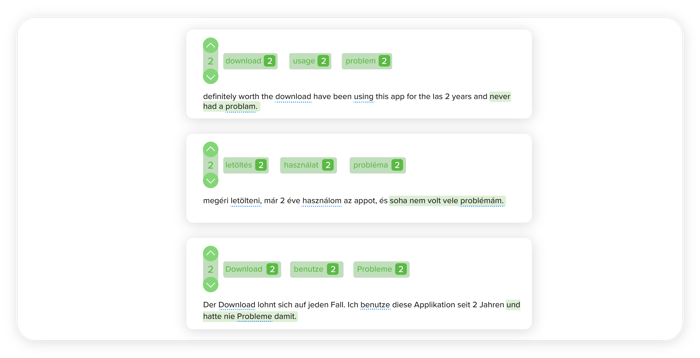 METHODOLOGY & PRECISION
Detect brands, important persons and locations
Important entities in verbatims are recognised and highlighted automatically. The platform constantly learns new entities, too.
METHODOLOGY & PRECISION
Map emotions
Discover deep insights in VOC data using our emotion mapping model that recognises eight emotions: fear, sadness, disgust, joy, astonishment, anger, pleasure, and longing.
HUMANIsED METRICS
Explore the real sentiments behind ratings
Uncovering your customer's genuine opinion isn't always easy, but open textual answers are evidently the most unfiltered source of insight. They reveal much more than just simple numerical evaluations. Quantify the tone of your verbatims through our advanced metric, the opinion index, and find the real emotions and sentiments behind ratings.
HUMANIsED METRICS
Find key drivers with topic correlation
Whether we call it NPS®, CSAT or CES, we're sure you want to know what key topics drive your north star metric. With the help of topic correlation, you'll immediately see your list of key drivers that influence satisfaction ratings.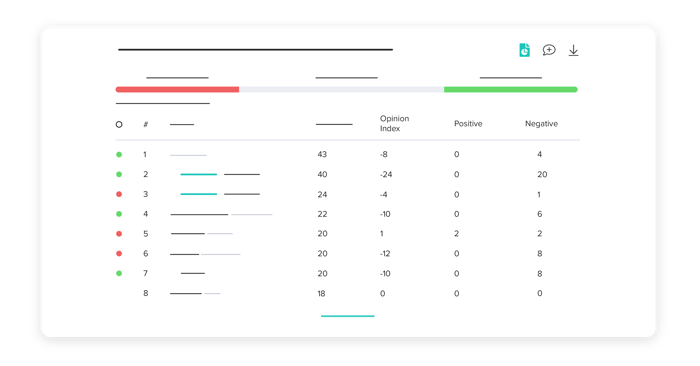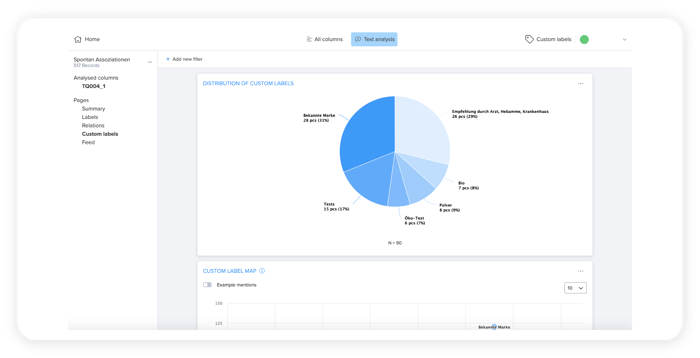 CUSTOM LABELS
Discover your strengths and your customer's pain points
You can have a deeper understanding of the VOC with multilevel categories. These can be built based on synonyms and exclude words, and using custom labels. We make your work easier by offering further synonyms and common misspellings based on our machine learning algorithms.
CUSTOM LABELS
Supersede the manual coding of textual answers
Custom label categorisation saves a huge amount of time and money compared to manual coding. If you have an existing coding frame, just upload it and turn it into custom labels. The coding of your research is an end-to-end process with us - all you'll have to do is download your final Excel output with the already coded dataset.
Surveys
Advanced functions made simple
We know that creating surveys can be a real headache sometimes, but to spare you that, we designed our survey editor to be super easy to use. These important features ensure fast survey creation and a seamless experience:
WYSIWYG editor
point and click builder
realistic preview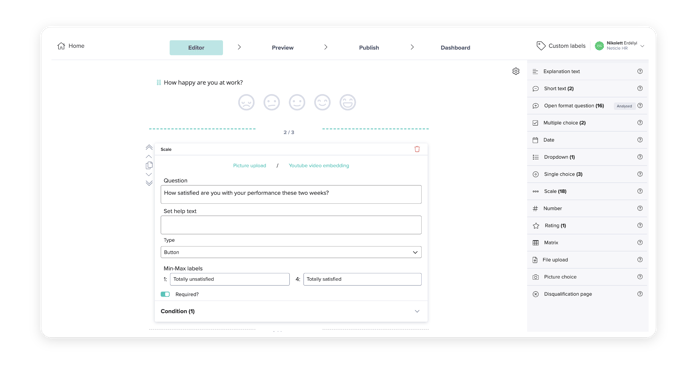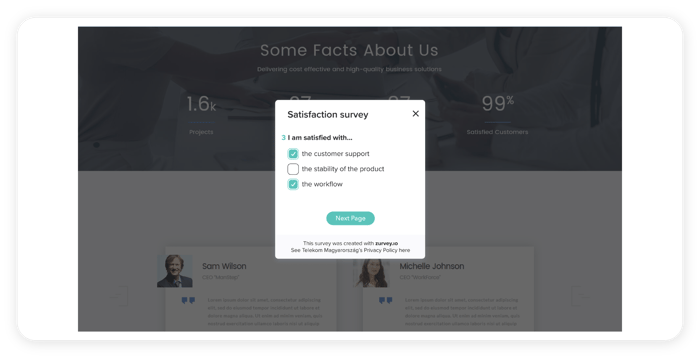 Surveys
Next-level data collection experience for respondents
Increased response rates due to:
providing the same experience on mobile
interactive question types and logics
auto paging
Surveys
Customise inside and out
Showcase your style with custom
typefaces
colours
logos
backgrounds
domains
e-mail addresses
...or use the platform fully white-labelled.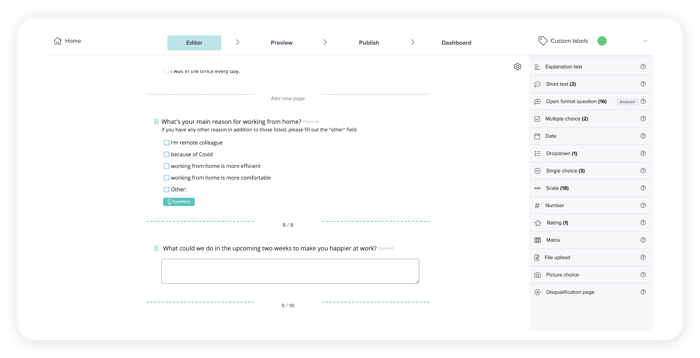 Surveys
Build complex survey logics
Complex questions sometimes require complex surveys. We provide all the tools to build them:
multiple conditions and logics
URL parameters
hidden questions
dynamic confirmation
customisable response limit and disqualification rules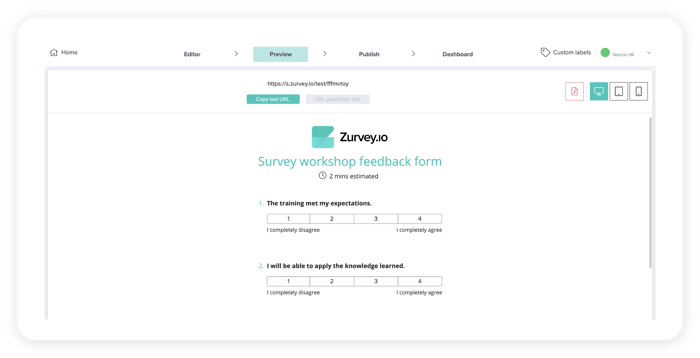 Embedding
In-app feedback made easy
Get instant feedback on your application and prioritise roadmap elements based on user needs.
minimal development time required
one-time installation
rich documentation for implementation (Swift, Java, React)
on-brand experience at all times, with many options for customisation
Embedding
No technical knowledge needed
Embed your surveys into emails with:
a customisable HTML widget
custom email templates
an on-brand look
different types of rating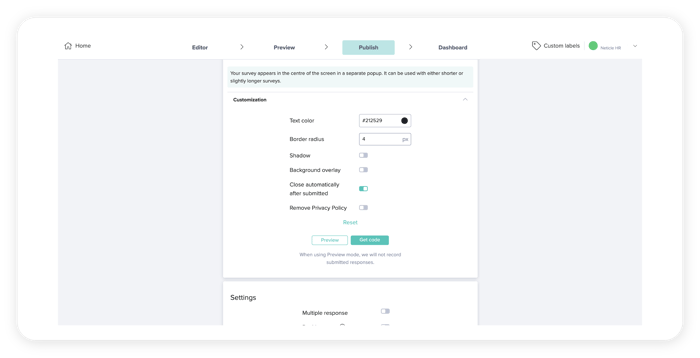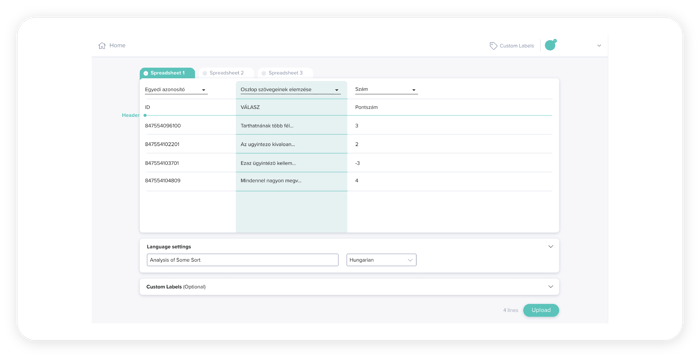 FILE UPLOAD
Process VOC data from any source
huge amounts of unprocessed data are no problem
upload with drag and drop
.xls, .xlsx, .csv and .ods files supported
Integration
Channel your email traffic into Zurvey.io effortlessly
The biggest challenge of processing emails for sentiment analysis is extracting only those parts of the email body that have real value and meaning. Using our NLP, you can get your incoming or outgoing emails analysed and classified the way you want.
automated parsing
handling reply chains
exclude signatures
one-time installation
any kind of email software or exchange server is supported, including Microsoft Office 365 and Google Workspace (G Suite)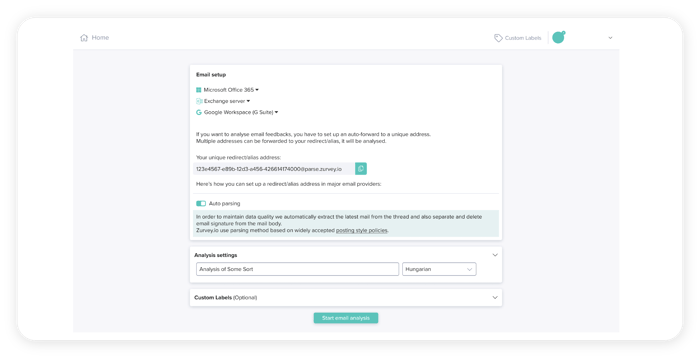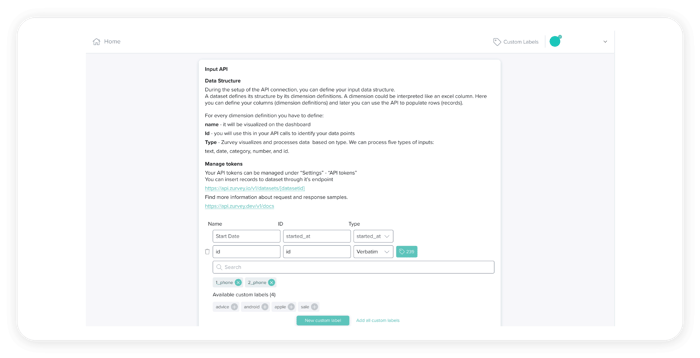 Integration
Our API: the real Swiss army knife
supports any kind of input
custom label categorisation available
easy setup
thorough documentation
SDKs (Java, Python, PHP)
auto refresh
continuous datastream
Integration
Understand what your customers like and dislike about your product
Analyse product reviews from Google Play, Apple App Store and Huawei App Gallery
Process and visualise satisfaction ratings and version numbers
Compare your product reviews with those of your competitors
Get the latest product insights in real-time, 24/7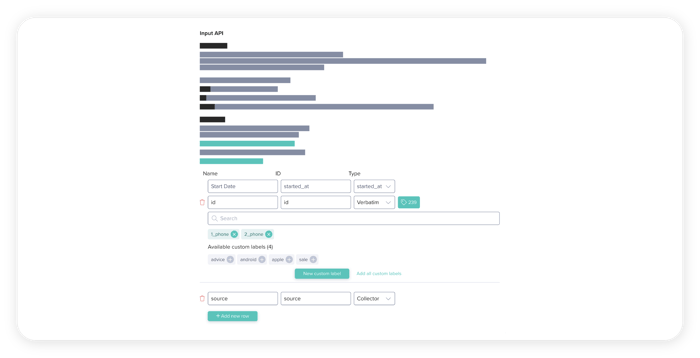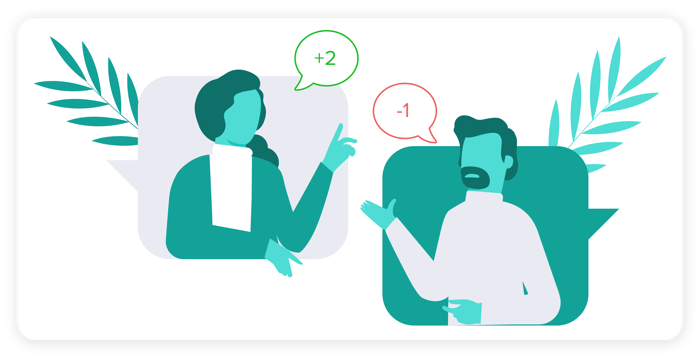 Integration
Social and chat data can be integrated
Analyse chat data from Facebook Messenger, Twitter or WhatsApp
Connect your Facebook or Twitter page to measure the efficiency of customer support
Even news sources are available
One-time installation & easy source management
Own categorisation system with custom labels
INTEGRATION
Process any website's content
No need to read through thousands of pages
Just upload a list of URLs
Any page's text can be analyzed outside the scope of social listening
DASHBOARD
From overview to small details
View, analyse and export your survey results reports
Identify root causes with drill down
Export PNG/PDF/Excel
Easy navigation and filtering even for huge surveys
Pin hide function
Save filter settings
DASHBOARD
Your textual data in focus
Dedicated dashboard for textual data (graphs, stats, breakdown charts)
Slice and dice views through complex filtering
Dedicated tab for custom labels and custom categorisation
Complex metrics shown in a transparent way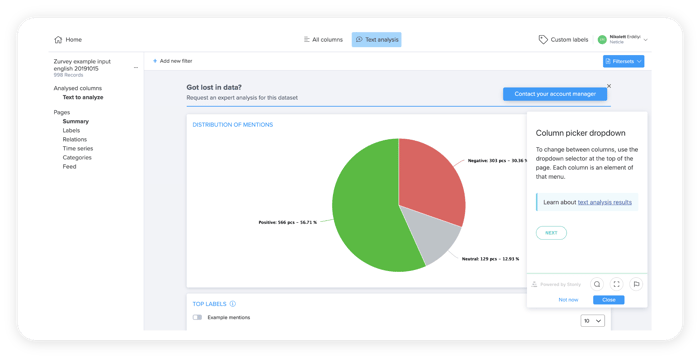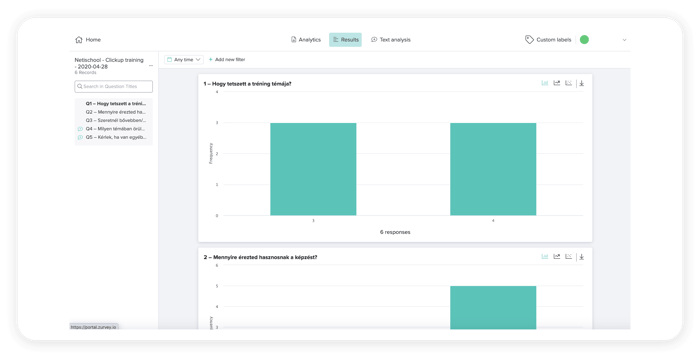 CONNECTORS & APIS
Integrate insights into your ecosystem
Output API - specific sources (data lake, data storage, any BI tool, JSON format)
FILE OUTPUTS
Analytics to suit your needs
Detailed and flexible data structure for Excel and SPSS
Enriched Excel, coding sheet and correlation matrix
Easy to digest, perfect for pivoting
Further analysis for data enrichment available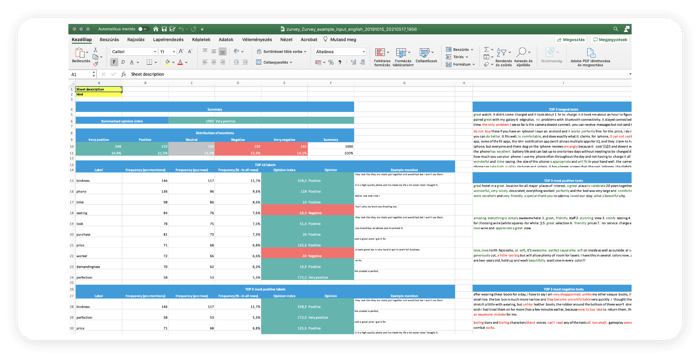 What Satisfied Clients Say About Zurvey.io
"I love working with Zurvey.io, it instantly gives me a clear overview of our customers' feedback. Neticle's expert analyses save the Market Research Department significant amounts of time, since they give us sharp, definite recommendations about the areas we need to improve. We integrate these into our strategic decisions in order to further improve our customers' shopping experience."
Erika Szilágyi
Head of Market Research

"As a CX leader, I thrive in collecting, analysing and extracting insights from customer feedback. Neticle, with their advanced technology and customer centricity, have been instrumentation in our efforts to harness the power of unsolicited (text) feedback – a source of insights that is continuously increasing in importance as we digitize our customer journeys."
Veselin Petkov
International Customer Experience Leader
"Zurvey.io has an intuitive GUI and nice graph-type visualization of topics and sentiments that help better understand customer surveys and messages on a larger set of data, e.g correlating sentiments, name entities, locations, and verbs. It supports almost all European languages handles negations, double negations as well."
Gábor Karsay
International Sales Director
Book a demo
We know that a significant portion of the success of your research depends on choosing the right survey tool. You don't have to just take our word for the benefits of using Zurvey.io, you can watch it in action instead. Book a demo and one of our Insights Managers will contact you as soon as possible. Take the first step towards ditching manual coding and a whole new world of enhancing CX!