Introducing new custom dataset alerts
Do you expect the unexpected when it comes to outlier values in your survey data? Do you need to react immediately if a rating significantly drops? The new alerts built into Zurvey.io will make sure you never miss an important shift of events in your data stream.
There are many users of Zurvey.io who have an API or email connector set up, work with large-scale surveys, or have data from Neticle Media Intelligence integrated. What they have in common is a continuous data stream that they need to stay on top of, but cannot necessarily monitor all the time. Zurvey.io's newest feature, dataset alerting, solves this problem. With the help of it, users can create alerts for any kind of data (both non-textual and textual). We'll show you how!
Choose from simple presets or create sophisticated custom alerts
When you log into the Zurvey.io platform, pick a dataset and click on 'Dataset alerting' from its menu, you will have two options. You can either choose to work with preset alerts that are generated from the given dataset's dimensions, or you can choose to set up your alert from scratch.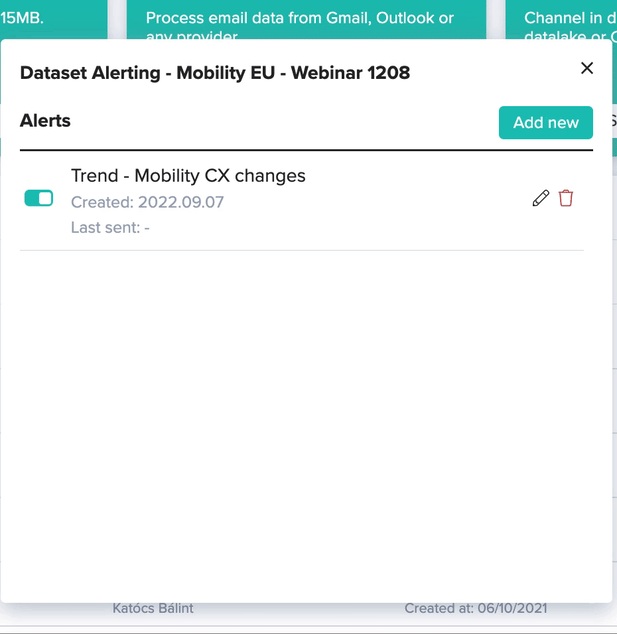 The presets will give you some ideas on how to get started if you're not already 100% sure about the kind of alerts you might need, but at the same time, they are also flexible, because you can still edit them later. If you're ready to play with alert settings or you have a specific alert in mind, choose the 'From scratch' option: you will be able to create complex alerts.
Compare time periods, switch alerts on or off
The alerts you set up can either be static or trend alerts. In case of static alerts, the system will only examine a selected time period, and alert you if your specific event occurs. Trend alerts need a benchmark period first, and they compare your examined time period's values to that.
In both cases, you can choose from multiple threshold dimensions, and lots of different operators to go with them. Threshold dimensions can even be represented by data segments, they don't need to be just one specific value. On top of these, you can even add filters to select only a specific type of data for examination.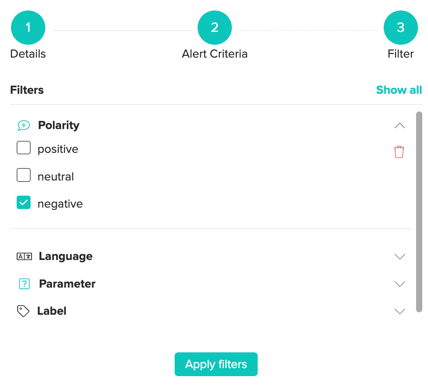 Once you're all set with your alert's settings, the system will check for data that match your criteria every hour and it will send you an email if it detects changes. You can decide to get notified multiple times a day, or you can choose to get daily digests. If you want to temporarily switch an alert off, you can also easily do that by the click of a toggle.
Try setting up alerts – they have more benefits than you'd think!
If you are a CX professional or a researcher, this new function will cover all your alerting needs from new complaints on a form, outlier values in any direction, NPS® or CSAT score changes, or the incoming of specific answers on a survey. You will be able to see if your survey settings work the way you want them to or if they need some modifications on the go, as well if there are any actionable items already visible from the data.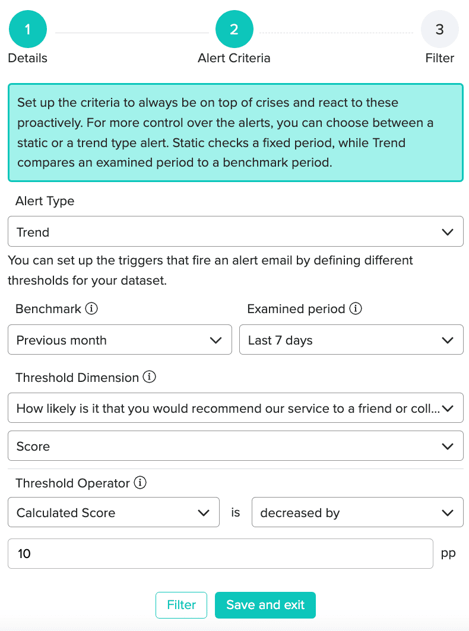 In this case, the system will alert you if your calculated NPS® score decreases by 10 percentage points in the last seven days, compared to the benchmark period, which is set as the previous month
Is one of your locations on Google Maps suddenly getting bad reviews? Is something up with your mobile app, with reviews pointing it out in the app store? Alerts will tell you about these as well, so you can talk to your store managers or developers ASAP. Do you only have a small or irregular data stream? It might be cumbersome to log in all the time just to find out about the occasional interesting result – instead, you can just rely on alerts so that you will still be in the know if something important happens.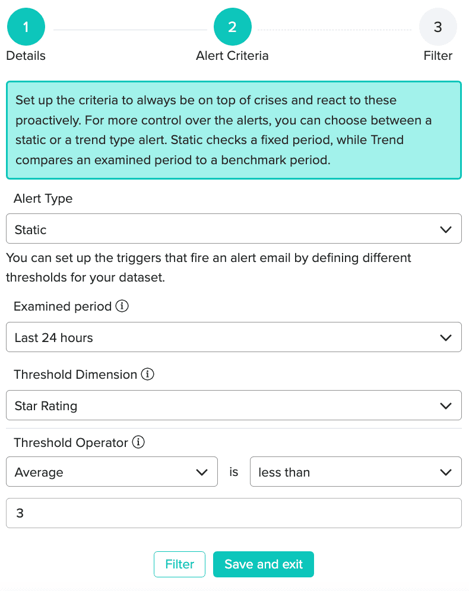 You could set up an alert like this for your app reviews: this static alert will send you an email if your star rating average drops below 3 in the previous 24 hours
Last but not least, there might be people in your organization who don't have access to the Zurvey.io platform. You can enable them to act upon the most crucial insights by signing them up for alerts. The email notifications will tell them all they need to know.
We can't wait to hear about what kind of alerts you create and how you use this new feature!
New to Zurvey.io? Book a demo to try this feature and others!
---

Share: